Estudio de Caso: The Machine Center y Triple E Se Unen Para Fabricar Ruedas Ertalyte
Construimos Confianza
Un taller de máquinas necesitaba un material único mecanizado con altas tolerancias a un precio razonable.  El producto terminado se colocará en un sistema de banda transportadora y se enviará a un usuario final.
El taller de máquinas encontró a The Machine Center mientras buscaba un taller de máquinas que pudiera manejar el mecanizado de 16,500 ruedas con precisión.  The Machine Center se especializa en el trabajo de tornos y tornos CNC y se enorgullece de la capacidad de manejar trabajos personalizados de precisión en pequeñas o grandes cantidades.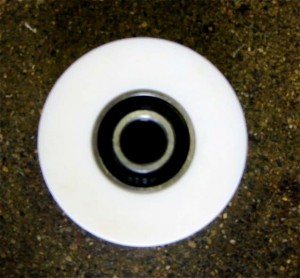 The Machine Center y Triple E trabajaron juntos para completar este proyecto. The Machine Center completó el maquinado de 16,500 ruedas e insertó los baleros y los ejes. Triple E maquinó los ejes para colocarse en las ruedas. Las ruedas Ertalyte se colocaron en un sistema de banda transportadora y se enviaron al usuario final. Triple E Manufacturing ofrece mecanizado por contrato, diseño de herramientas y construcción de maquinaria.  Tanto The Machine Center como Triple E Manufacturing forman parte del grupo de negocios de Caster Concepts.

Nos Encantaría Escuchar De Usted!