Serie 94 – Capacidad 1800 kg – Placa Superior 8.5 x 8.5 – Resorte Vertical
Series 94
Construcción
Sección Giratoria: El yugo y la placa superior de esta rodaja se fabrican mediante un proceso de forjado por caída de acero C-1045. El perno rey es un componente integral forjado de la placa superior. La pista de rodadura está mecanizada en la placa superior y el perno rey está roscado. Los componentes se tratan térmicamente. Un balero de empuje cónico de precisión se presiona sobre el perno rey y se acopla al yugo. Los baleros de bolas endurecidos completan el paso de rodadura.
Kingpin: Perno rey forjado integral de 1.25 pulgadas, roscas mecanizadas de precisión con tuerca ajustada ranurada y fijada para corregir la estanqueidad.
Brazos: Brazos cortados a láser de 1/2" x 4" Formado en CNC y soldado continuo en el interior y exterior a la base del yugo para proporcionarle mayor resistencia..
Eje: Eje Grado 5, 1.25 pulgadas con enroscado fino
Lubricación: Pre-lubricado antes de enviarse.
Ruedas: Ruedas de 6 pulgadas a 18 pulgadas de diámetro con anchuras de 3 pulgadas a 5.0 pulgadas. Los baleros pueden ser de bolas, cónicos o de bolas de precisión
Acabado: Chapado de dicromato de oro. Pintura húmeda y en polvo disponibles
Altura Total: 13.5 pulgadas-15.5 pulgadas
Placa superior: 8.5" X 8.5"
Beneficios
Las Rodajas de Uso Pesado Serie 90 están fabricadas para soportar aplicaciones demandantes. Las pistas de conducción tratadas térmicamente están diseñadas para evitar dañar a los conductos. Las patas formadas con corte por láser proporcionan resistencia adicional cuando la carga lateral o el arrastre son frecuentes en la aplicación. La excepcional resistencia de la Serie 80 la hace una elección ideal para aplicaciones rigurosas que requieren una capacidad de carga grande..
Opciones
Toe Guards
Can be manufactured in custom configurations or dual wheel to meet your needs.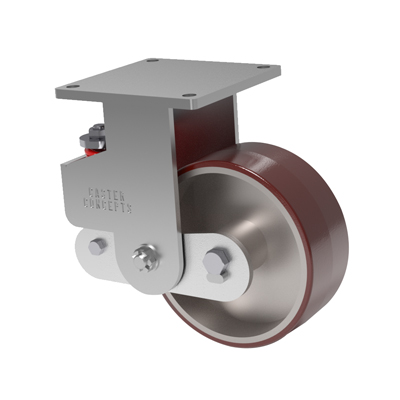 Nos Encantaría Escuchar De Usted!